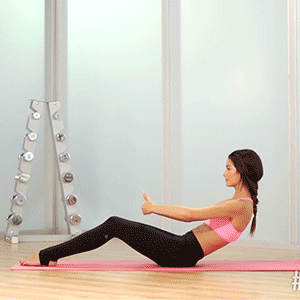 Lily Aldridge doing Barre
(image via
Self
)
The month of December is pretty much a string of celebratory lunches, potlucks, drinks and other holiday celebrations, with good cause. But, today, we pause
The Victoria's Secret fashion show
! I will be tuning in tonight to ogle over the intricate costumes, music and amazing model physiques. I mean... when else are we, the general public, invited as critics and attendants to such a massive and stylish production of re-known caliber?
because it is the annual event we have been waiting for:
Unfortunately, tuning in will most likely end in despair wondering when you can look
that
good!
The thing is with some time and the right tools you can, and, in my opinion Barre3 is the tool!(Start by reading
Self
's
5 tips for barre beginners
)
So I first got into barre after looking to "spice up" my at-home pilates & yoga workouts. Many a supermodel, including the famous Victoria's Secret angels
Miranda Kerr
&
Lily Aldridge
, are devotees of this ballet & pilates regimen. Currently, the barre fitness method can be found in most cities but if you are more like me and cannot bring yourself to spend 200 dollars a month to attend a studio then the
Barre 3 DVD
&
online workouts
are what you need.
Barre 3
is the product of
Sadie Lincoln
(she counts
Madonna
as a follower) which she founded in Portland, Oregon and made available to any and all looking to shape up in the comfort of their home (there is even an app for those looking to stay fit on the go). I started her DVD and online workouts (which I steam to my
AppleTV
) in September and can testify to their results! My legs (as seen on
my 31st birthday
) have never looked better, my arms are toned whilst remaining slim and my core is stronger than ever. To my surprise my stamina (when running) has, also, increased tremendously. (Cue the infomercial voice) Sadie and her peers not only gave me the look I yearned for but they also gave me confidence to get back into the gym and expand my home workouts with studio sessions. Though my shape & strength is very much a work in progress, I am proud to say that after three in studio sessions my posture remains critique-free and my dedication continuous to increase.
Given
QVC
currently has the set on
sale for $36
vs it's
$95 retail cost
- making it incredibly affordable - give your new years resolution a head start or gift this to the amazing people in your life looking to benefit from channeling their inner ballerina and making life their runway! Not convinced? Signup for a
free 15 day trial
of the online workouts before you commit to the DVD program.
Now if only I could put the cookies down...